The average organization wastes 25% - 35% of its operating budget doing things wrong or doing the wrong things. This Price of Nonconformance should not be confused with the price of doing business; Price of Nonconformance is a drain on resources, that when eliminated, can be converted into sustainable, bottom line results.

Price of Nonconformance exists because companies have a culture of inspection rather than prevention. This "find and fix" mentality disappoints customers, frustrates employees and is a very expensive way to do business.

This is where Global Performance Partners can help!

While today most companies have implemented some form of quality improvement process, almost all are dissatisfied with the results. That's because typically these efforts require complex statistical methods, excessive documentation and certifications or tedious problem solving techniques. They usually do little to convert existing problems into profits or create a culture that prevents new opportunities from occurring. Global Performance Partners (GPP) produces effective results, guaranteeing a minimum 5-1 return on investment in the first 12 - 18 months.

Our Methodology

An effective quality management process takes more than just interest and intent - it takes a proven process and experienced guides to ensure it becomes a routine part of how you do business. GPP provides a customized solution to meet your specific needs, however services typically include some combination of the following:

- Assessment - identifies high leverage opportunities that can quickly be converted to revenue while expending the least amount of resources
- Education - provides the knowledge and process capability to reduce costs and improve top and bottom lines by preventing non-value added activities
- Implementation - engages all associates in reducing waste and streamlining operations

If you are interested in initiating a quality process or accelerating the results from an existing one,
we can help you achieve your objectives.

EFFECTIVE QUALITY MANAGEMENT IS COMMON SENSE; WE MAKE IT COMMON PRACTICE



Partners with the Automotive Industry Action Group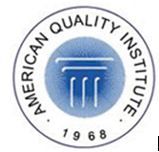 Cerfified by the American Quality Institute, LLC




WHAT PEOPLE ARE SAYING ABOUT GLOBAL PERFORMANCE PARTNERS:

"The price of non-conformance exercise was great! It showed me
I was making things way too complicated in trying to show top
management the impact of poor quality on our bottom line."

David Mimms, General Manager, Quality Division, Toyota Motor Engineering
and Manufacturing North America, Inc.


"Good courses to train, reinforce and engage all disciplines of an
organization to understand current state with tools and processes for
continuous improvements. Prerequisite is organization management
commitment and long term continuous improvement roadmap."

Rob Cranford, TRW